My name is Nicole M. Nguyen. In the summer of 2000, I became a River Rat for two weeks; two stupendous and thrilling weeks. The trip may be over, but I will always cherish the memories and friends I made.

I still remember the first morning back home after my trip, I woke up at 5:30 am and clothed within seconds, after all, this had become a daily routine. I ran downstairs, grabbed some milk before I realized, hey, I wasn't at camp any more. Suddenly nostalgic, my happy mood suddenly saddened. I missed those two weeks, both on and off the river.

The camp program that I attended was the "Susquehanna Canoe Trip." Its campers have been dubbed the River Rats for obvious reasons: spending a week on the Susquehanna River without showering. The Rats spend their first week at camp preparing for the trip down the Susquehanna River. The week consists of 6 am canoe practices that last for what seems like forever, canoeing before and after lunch, swimming, trust games, the adventure trail, capers, and of course, bonding.

Now, the first two days are always the hardest. You're always nervous about what kind of people you'll be living with and if you'll make friends. But when you think about it, you're all "in the same boat." I always attended camp without knowing anyone there and always leave with many new friends.

That first week was a lot of friendship making and trust building. We knew we had to get along because we had to spend the next week on the river helping each other survive. Our crew was very close from the beginning and we even stayed up late each night even though we knew we would have to be up early the next day. We spent countless time under the stars talking about our lives and understanding each other. That's what camp is about; getting to know other people and having an experience of a lifetime.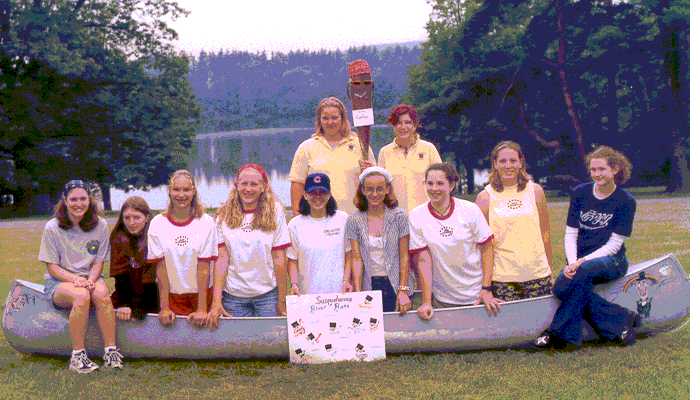 The second week, whew, that was a tough journey. The day before our canoe trip actually started, we had to stay up until 1 in the morning planning, checking and rechecking, and preparing for the week's adventure. Our team work helped us get the work done faster and more efficiently. The next afternoon, we headed out and that's when the fun began; everything from paddling in circles, losing retainers at McDonalds, to mystery stew.

That week was grueling; 12 mile canoeing, blistering sun, 5 am wake-up calls, no bathrooms, week-old food, no showers, that wet stench all day, sunburn, cold nights, no pillows, sleeping in tents without cots, bug-attacks. Yet, all in all it was such a good experience. We played games, sang to an elderly couple on whose land we set up our tents, swamped our canoes, sat around the campfire and talked for hours into the dead of the night, not caring that we would only get one or two hours of sleep. This was real camp. The real out-doors. The feel of real friends bonding.

Every now and then, I think back to those two weeks, and among my other travels, nothing topped those two weeks at camp.